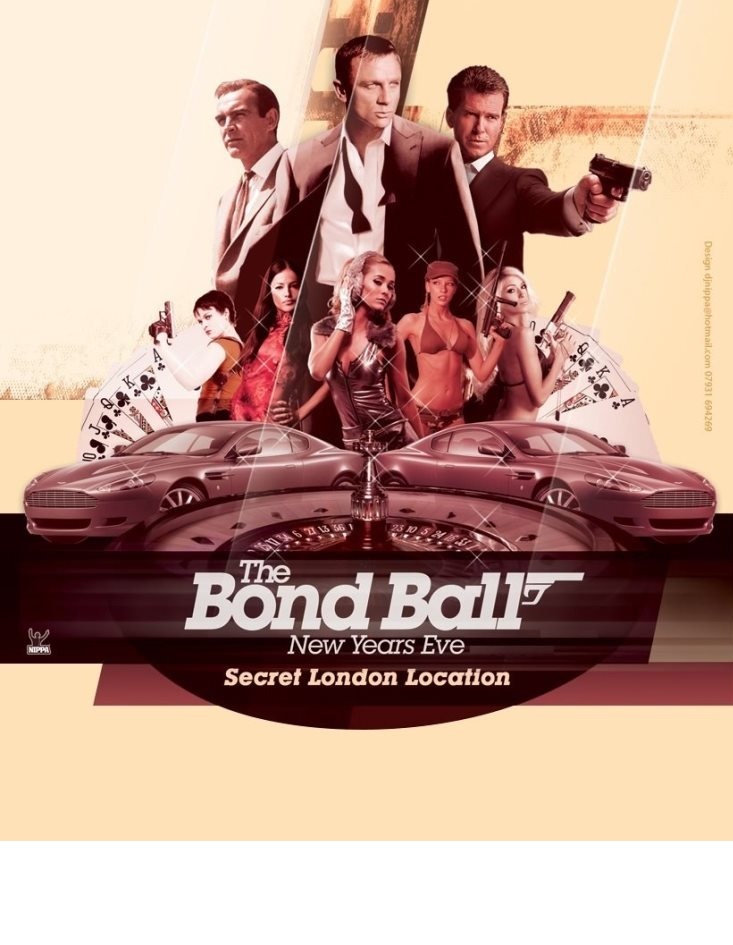 Bond Ball NYE 2022 - We're back ready to save the world this New Years Eve , the party in a London hotel
by VivusHub
Holiday Inn London - Bloomsbury, London
Date and Time
2022-12-31 14:00:00
Location
Holiday Inn London - Bloomsbury, London
Share
About this event
Bond Ball presents. . .
The Ultimate Secret Spy Soirée this New Years Eve in a Hotel
Time to say goodbye to 2020
Reserve for just £10, balance will be invoiced 3 weeks before the event. 
++ STOP PRESS Covid-19 rules relaxed for December ++
Info and all questions: alistjohn@gmail.com
£125 admission per person includes hotel room, 3-course dinner, party, brunch-style breakfast party the next morning, and 2pm check-out.
In these uncertain times we charge £10 to secure your place, the balance will be invoiced three weeks before the event, if the Covid-19 rules change and we cant go ahead we refund the £10 deposit. 
The Ultimate New Years Party in a Hotel
Your mission for NYE should you choose to accept is to Party in an exclusive Hotel on Russell Square in a fully Covid-19 rules compliant *  
After a years rest, the legendary showstopper that has provided endless entertainment for New Years Eve revelers since its glamorous inauguration is returning this New Years Eve. The Bond Ball has always put the emphasis on allure, entertainment, decadence, and music to die for.
Lets be honest 2020 needs a superhero
Theres only one theme suitable to choose for such a lavish party Your favorite Secret agents... The Bond Ball will be awash with Blofelds, Austin Powers, Goldfingers, Miss Moneypennys, Bond girls from the 60s 70s 80s and 90s and of course Mr Kiss Kiss Bang Bang himself. Be as daring or as subtle as you please with the theme, but remember - those in outrageous costumes always have more fun!
Stunning production, unsurpassed entertainment, and the renowned atmosphere have made our secret spy soiree the destination for the most discerning social set on the London scene. 2020 has been riddled with problems but Covid wont stop the fun!
The Vegas Casino! There is even a Casino if you feel like trying your hand at a game of Black Jack or Roulette. Gamble your way into the New Year and swap glances with impeccably groomed baddies at the table. This glamour is likely to go to your head...remember secret agents have more fun!
Our decor company will be creating a space worthy inside the hotels function suite and bars including a casino. Providing the entertainment will be some of the Industrys finest names to date from music, DJs, comedy, and entertainment.
Midnight Countdown
Hopefully, NYE will be given an extension on venue openings but if not we have it covered. We will start the party at 6pm and celebrate NYE at 9pm (UK time, its midnight somewhere else lol) with a big countdown and images streamed from the countries three hours ahead of us. If we finish at 11pm you and your group of 6 can go upstairs to a private party in the hotel bedroom or go outside in the West End.
On New Years day over Brunch (11am-2pm we will celebrate the start of 2021 together and hopefully put 2020 in the bin which it deserves!
Covid-19 rules compliant * see more info below but we have it covered.
The Plan for the night (if the curfew is still at 11pm, if its extended this will shift 2 hours later)
++++++++++++++++++++++++++++++++++++++++++++++++++++++++++++++++++++++++++++++++++
Your NYE begins when you check into your room after 1 pm on New Years Eve. You can grab a little shopping as we are right in the West End, maybe lunch in the hotel bars.
At 4pm we will start the fun with a DJ in the hotel bar to ease us into the event. 6pm the party moves to the Ballroom where the entertainment starts and dinner is served, three courses to enjoy while the entertainment is on stage. Musical bingo, Casinos, Comedy, and DJs all will ensure you are entertained. 9pm its the big NYE countdown and closes an hour later.
At 10pm guests can retire to their room in the hotel or take in what London has to offer on New Years Eve. 
The next morning at 11 am the party starts again for a Brunch event to celebrate the brand new year 2021.
HOTEL ROOMS
The costs start from £125 per person including Room / Admission and Brunch style party on NYD. This price will go up to £155 as we get closer!
Providing overnight accommodation in one of the hotels rooms as well as access to the hotels 24 hours facilitates means the Bond Ball will be more of a mini-break than a night out. All rooms are en-suite with bath and shower, have a fully interactive television and entertainment.
Covid-19
While we aim to make the party as much fun as before, it will be different than before (but hopefully as good)  We have to follow government guidelines, to minimise transmission of COVID-19. Measures we have had to put in place include limiting the volume of music and booking known, DJs to play longer sets. However we have added more entertainment to ensure you have a great experience, think magic, fire, dancers, and comedy and you will get the picture.
We kindly ask you not to shout, run or dance, this is a fun boat party event to be enjoyed amongst groups of friends or loved ones, not a club night.
***Note: We are unable to move tables together and cant allow guests from different tables to join together. Please book a single table of the appropriate size for your group. Dont arrange to meet in groups larger than your table allows., max 6 guests unless the rules change***
TIMINGS
Due to changing COVID-19 restrictions, it may be necessary to make changes to the timings and programming of events.
Drinks
We have installed a new ordering system which will allow you to order drinks via your phone. Simply scan the QR code on your table to bring up the menu and then tap away. You will not be able to order food & drinks directly from the bar so please make sure you have plenty of battery.
HEALTH & SAFETY
Please do not attend if you are showing symptoms of COVID-19 or have been asked to self-isolate. Dont forget to bring your own mask. Please wear a mask when traveling to, and queuing to enter.
All groups must arrive together.
Groups together and all guests will be asked to use the provided hand sanitiser upon entry to the venue.
There is a one-way flow system throughout the boat to comply with social distancing regulations, and mitigate any risk of transmission please follow the signage!
There will be staff stewards to answer any questions and make sure everyone observes safe practices.
Payments will be card only, and contactless where possible.
Toilets will be cleaned regularly during a session and thoroughly cleaned between each session.
The venue will be sanitised between each session so your table on board will be fresh and clean for your arrival.
We have taken all possible precautions to make sure that groups can be safely separated and the venue facilities are safe but we must rely on the judgment of customers with regards to the makeup of their groups. Please only attend in groups if you arehappy to comply with government advice.
Over 18s Only
ID Required and will be scanned on entry to comply with COVID-19 tracing requirements.
Refunds
If the event is not able to continue due to changes in the regulations all guests will be given a full refund on deposits and full payments.
Info
Over 18s photo ID please. For Group Bookings / VIP packages / Birthdays / Enquiries to alistjohn@gmail.com +44 (0)7861 114210 More info: www.facebook.com/spacelondon
++++++++++++++++++++++++++++
F I N A L L Y
Finally, have fun but please do respect everyones personal space, including fellow party-goers and our staff!
Venue
Holiday Inn London - Bloomsbury, London